The campus network users are required to login the Internet account when accessing to the off-campus network resources.

1 How to Create an Account
Use your Campus Card with sufficient balance to transfer money into the Billing System as the picture shows below.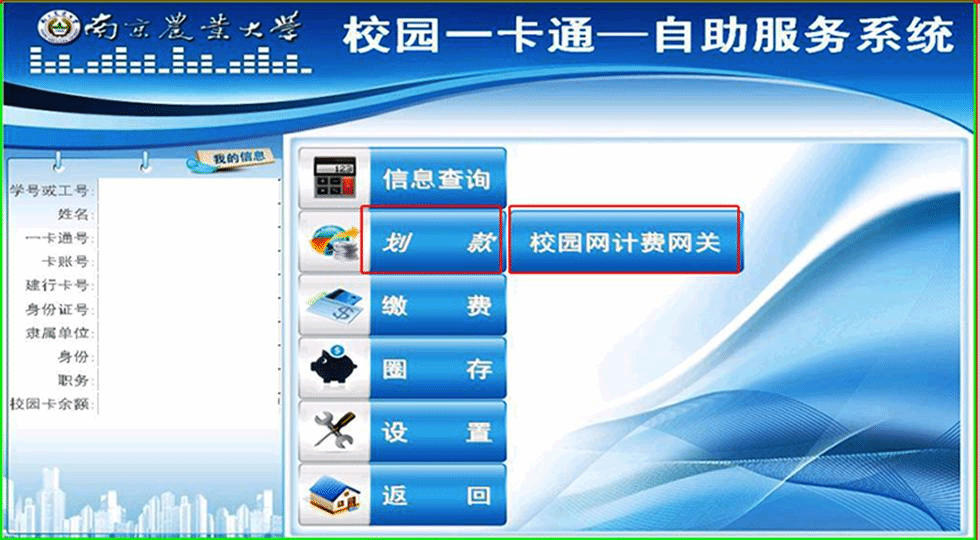 Then your Internet account will be created and you can recharge like this. The USERNAME is your Student/Teacher ID, and the default PASSWORD is 123456. Please change the password through http://account.njau.edu.cn/ as soon as possible.
2 Billing rate
Users Type

Multi-Device
Network Access

Free Data

Price of Additional DATA

Upper Limit Cost

Undergraduates

2

5GB

¥1/GB

¥50

Master Students

Doctoral tudents

10GB

Teachers & Staff

3

¥100

Unauthenticated Users

1

—

—
l Campus Network resources and databases can be used for free.
l In case the data exceeds the free range, the additional data will cost ¥1/Gigabyte. And when the network cost reaches the upper limit, the exceeding amount will be free.
l Multi-Device Network Access means the number of devices which can login the account at the same time.